About Us
Advanced hardware-software systems and innovative approaches designed by our engineers have proven successful in acquisition and interpretation of geological and geophysical data in Russia and worldwide, from West Siberia to Indonesia
Reliability is the principal merit of our results. We are working to satisfy our clients and achieve 100 % validity of our models
We are learning and progressing nonstop to face any challenges
Welcome to become our clients and partners!

Learn more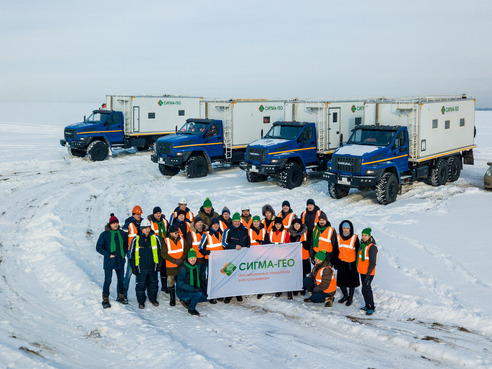 нажмите для увеличения
Our mission
Our mission is to take exploration to a basically new higher level due to technological advance in electromagnetic and seismic surveys. We are doing our best to offer affordable and high-quality solutions in geosciences.
Special hardware-software systems we design help our clients to gain competitive advantages by de-risking exploration and development
Our team
Our team consists of skilled and experienced geophysicists, geologists, IT specialists, and engineers, holders of Master and Doctorate degrees
In collaboration with the leading teams of geoscientists from Russia and abroad, our experts are constantly improving the methods, technologies, and instruments offered to our clients
SIGMA-GEO has hosted and organized conferences, workshops, and training seminars that bring together people from different institutions, including oil companies.
SIGMA-GEO runs regular special programs of upgrading skills, sharing experience and field training for Russian and foreign students, with subsequent job offering
Equipment and facilities
Hardware
SIGMA-GEO is a manufacturer of advanced instruments and software for resistivity imaging to depths from 5 m to 20,000 m.
All instruments have been successfully tested in extreme climatic conditions in East and West Siberia and worldwide (Malaysia, Indonesia, Australia, Saudi Arabia, China, Chile, etc.)
Our instruments boast high noise immunity proven in different urban and industrial areas.

нажмите для увеличения
Vehicles and machinery
Field equipment is mounted on wheels (new Next and Kamaz trucks made in 2019) or on all-terrain tracks like light armored multi-purpose towing vehicles.
Our vehicles are equipped with all necessary tools for resistivity surveys, including powerful gensets up to 150 kW that maintain transmitter currents to 200 A, reel trucks, etc.
Working places of field geophysicists are fitted in full accordance with ergonomics and safety requirements

нажмите для увеличения
Geography